SASKAPACA
— Established in 1996 —

We are a mom and pop alpaca farm based in Lintlaw, Saskatchewan. We proudly offer a curated collection of premium alpaca products produced locally from our very own alpaca fibres.
Did You Know...
Alpaca fibre is recognized as one of the most luxurious fabrics in the world. Alpaca wool is superior to other wools in strength, warmth and softness.

- Alpaca products are hypoallergenic -
- Alpaca fibres are naturally water and wind resistant -
- Fabric made from alpaca fibres features exceptional breathability -
Testimonials
---
Thank you for your prompt shipment of my order. It arrived this morning...just two working days after order placed! And just in time, now that the cold weather is here!...
 I received my order today! Fabulous socks as always. 
My husband likes the healthy living socks the best.  He is diabetic and finds the socks very comfortable.  They are soft, flexible and not tight... Five-star rating from both of us.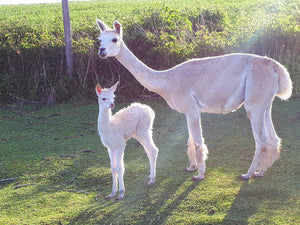 Thanks for your support
We are proud to have found highly capable knitters, crocheters, weavers, hookers, felters, artists and furriers to work with and create the diverse array of amazing Alpaca products we carry today.
Your support supports us all.